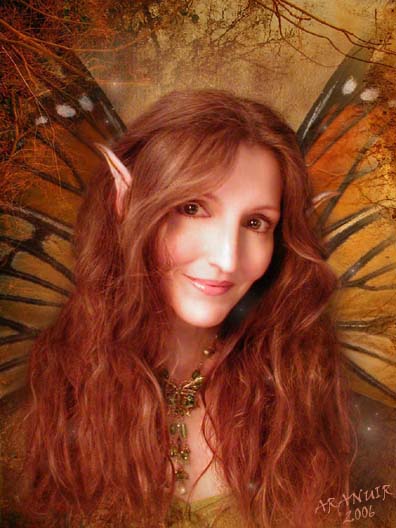 This portrait was made magical by Aranuir.
About the Artist - This artist discovered her gift for art at a very early age. Marchella began creating two dimensional fantasy art almost as soon as she could hold pencil and paintbrush to paper. Her family, being of Irish descent, raised her on faerie stories, fairytales and folklore. It was only natural that faeries and fantasy creatures would eventually become the main subject matter of her art. A faerie collector herself, she was often disenchanted by not being able to find faeries that fit her vision of what faeries looked like. So, in 1996, she began sculpting her unique visions, and she has been creating them ever since. Each is a labor of love, often taking weeks to complete. "My sculpting is my passion, but I'm really just the tool in this process. When I'm sculpting, I get totally lost in it. Often, I'm not even aware of what I'm creating. I don't try to control the outcome. The faeries have the creative control and that is why each faerie is completely unique. I will accept commissions to create custom faeries as long as this is understood. I can control the coloring, and the design, to a point, but not the face, unless it is a Likeness Faerie. I always trust that the faerie that appears is the perfect faerie for the commissioner. I never know how a faerie will look until it has arrived. The faeries are who they are. They already exist. I merely help them get from their realm to ours."
The Technical Details -"No short cuts are ever used during my creation process. Every strand of hair is custom colored by myself. Every intricate detail, every vein, every color variation of every wing, is hand painted, front and back, the old-fashioned way...with a paintbrush and my hand. No photo copies or computer generated images of wings are ever used. No patterns are ever used. No real insect wings are ever used. Every skin tone is custom blended for each faerie. I create every aspect of every faerie. That is what makes them true one of kind works of art and completely unique."
In addition to being a naturally gifted artist, Marchella holds a degree in the field of cosmetology. Her many years of experience gives her a unique perspective that is reflected in her creations. Being highly skilled in the art of hair coloring, styling, and make-up artistry, her faeries now benefit from her extensive knowledge. Each and every faerie receives their own custom hair color formulation. Her brilliant hair colors are all created from professional hair color. No color is ever straight from the bottle, or duplicated. Each one is as unique and one of a kind as the faerie who wears it. Each faerie has a custom blended skin tone as well. As with the hair coloring, no clay is used straight from the package. Each faerie has a unique formula created just for them.
Marchella's work can be found in galleries and exclusive gift shops, as well as in private collections worldwide, including that of musical artist Tori Amos. The Faeries of Gossamer Glen were featured in the Winter 2008 Issue of Faerie Magazine. They have also been featured in the Winter 2008 Issue of FAE - Faeries and Enchantment Magazine, and on Fae Nation's website, featuring only the best in the World of Faerie, as well as being published in the fantasy art book "Imagine 2006."
"My inspiration is born from a love of fairies, the beauty and magic of nature, and a desire to share the wonder and enchantment of this world."
"My creations are for anyone who still believes in magic, and for those who believe that fairy tales do come true."